'They say you can get lost in a good book.
But it's worse to get lost in a bad one…'
From award-winning company Trick of the Light Theatre comes a story of mystery, magic and mayhem. The Bookbinder weaves shadowplay, paper art, puppetry, and music into an original dark fairytale in the vein of Coraline and Jonathon Strange and Mr Norrell. An inventive one-man performance for curious children and adventurous adults...

"A real delight"
- The Guardian, UK

"Spell-binding storytelling at its purest and best..."
- Theatreview, Dunedin

"A must-see gem" ★★★★½
- The West Australian, Perth
"A beautiful, articulate and engaging show that is as engaging as it is mysterious" ★★★★★
- alledinburghtheatre.com, Edinburgh
The Bookbinder was first performed at Arty Bees Bookshop as part of the NZ Fringe in 2014.
Recommended for adults and older children (8+)
55 mins (No interval)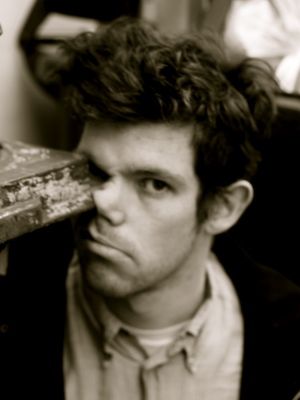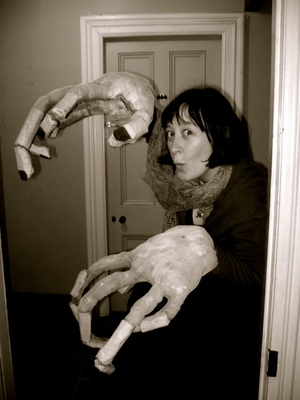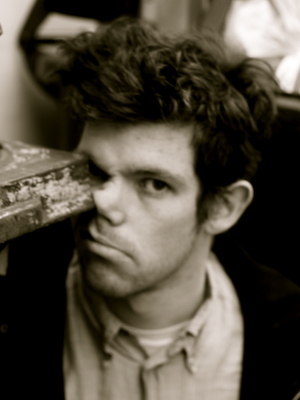 Based upon a story idea by Ralph McCubbin Howell and Hannah Smith
Poster Design
Ed Watson
Papercraft & design
Ralph McCubbin Howell
& Hannah Smith
UPCOMING SEASONS
TE TAIRĀWHITI ARTS FESTIVAL
The Library Room, Poverty Bay Club, Childers Road & Customhouse Street, Gisborne
Wed 9 - Thu 10 Oct, 2019
5:30pm & 7:30pm
Bookings through Te Tairawhiti Arts Festival
HAWKES BAY ARTS FESTIVAL
Paisley Stage, Napier
Sat 19 Oct, 2pm
Bookings through Hawkes Bay Arts Festival
BRITISH COLUMBIA, CANADA
Studio Theatre, Surrey Arts Centre, Surrey
Sat 2 Nov, 3pm
Bookings through Surrey Arts Centre

ILLINOIS
Krannert Center for the Performing Arts, Urbana, Illinois
Thurs 7 - Fri 8 Nov 7:30pm
Sat 9 Nov 3pm and 7:30pm
Bookings through krannertcenter.com
PAST SEASONS
NATIONAL ARTS FESTIVAL
Victoria Theatre, Makhanda, South Africa
Jun 30 - Jul 7, 2019
AUCKLAND ARTS FESTIVAL
The Loft, Q Theatre
Mar 21-24 2019
HORIZON FESTIVAL
The Old Ambulance Station, Narbour
Aug 24-26, 2018

DARWIN ARTS FESTIVAL
Brown's Mart Theatre
Aug 17 - 19, 2018
CALGARY INTERNATIONAL CHILDREN'S FESTIVAL
Engineered Air Theatre, Calgary
May 23 - 26, 2018
SYDNEY
Belvoir Theatre, Surry Hills
Sep 26-Oct 8, 2017
ASSITEJ CRADLE OF CREATIVITY
City Hall, Cape Town, South Africa
May 20-21, 2017

CHRISTCHURCH
The Arts Centre
Apr 27-29, 2017

PARRAMATTA
Riverside Theatres, Parramatta
Mar 14-15, 2017

NEW YORK
Clark Studio Theater, The Lincoln Center
Mar 4, 2017

AWESOME ARTS FESTIVAL
Perth, Merredin, and Bunbury, W.A
Oct 7-23, 2016
EDINBURGH FESTIVAL FRINGE
The Cellar - Pleasance Courtyard
Aug 3-28, 2016
BRIGHTON FRINGE FESTIVAL
Sweet Dukebox
May 22-28, 2016
IMAGINATE FESTIVAL
Traverse Theatre
June 2-5, 2016
SALISBURY INTERNATIONAL ARTS FESTIVAL
Longleat House Library
June 7-11, 2016
INTERNATIONAL FESTIVAL OF ART & IDEAS
Yale Center for British Art, New Haven, Connecticut
June 17-19, 2016
SOUTHLAND FESTIVAL OF THE ARTS
Various venues
April 30- May 5 2016
DUNEDIN
Fortune Theatre
April 27 2016

CHRISTCHURCH
Philip Carter Family Auditorium, Christchurch Art Gallery
April 20-23, 2016
ADELAIDE FRINGE
The Bakehouse Theatre Studio, Adelaide
February 12 - 20 2016

KOKOMAI FESTIVAL
Senior Citizens Hall, Featherston
October 17 - 18, 2015
WELLINGTON
Circa Theatre
September 26 - October 10, 2015
EDINBURGH FESTIVAL FRINGE
Assembly Roxy Downstairs
August 6 - 31, 2015
ARTS ON TOUR
Tauranga, Opotiki, Whitianga, Hamilton, Tokoroa, New Plymouth, Upper Hutt, Mapua, Mussel Inn, Hokitika, Arrowtown, Bannockburn, Gore, Owaka, Roxburgh, Oamaru, Twizel, Ashburton.
Jun 30 - Jul 24, 2015

UPSURGE FESTIVAL
Pompallier Mission, Russell
Apr 25 -26, 2015
WANAKA FESTIVAL OF COLOUR
Wanaka Masonic Lodge
Apr 21 - 23, 2015
CANBERRA
Gorman Arts Centre
Apr 17 - 18, 2015

HAMILTON GARDENS ARTS FESTIVAL
Japanese Garden of Contemplation
Feb 18 - 19, 2015
FRINGE WORLD FESTIVAL
The Blue Room Theatre, Perth
Jan 23 - 21, 2015
OAMARU VICTORIAN HERITAGE CELEBRATIONS
Oamaru Opera House and Historic Precinct
Nov 14 - 15, 2014
THE OLD MILL
Waikari, North Canterbury
Nov 8, 2014

NELSON ARTS FESTIVAL
St Peters Church, Founders Park
Nov 22 - 23, 2014

MELBOURNE FRINGE
Son of Loft, Lithuanian Club - Fringe Hub
Sept 19 - Oct 4, 2014
SYDNEY FRINGE
Better Read Than Dead, Newtown
Sept 11 - 13, 2014
BATS THEATRE
Wellington
Jun 8, 2014
ESCAPE! FESTIVAL
Books A Plenty, Tauranga
May 31 - Jun 1, 2014
DUNEDIN FRINGE
The Playhouse Theatre, Dunedin
Mar 13 - 16, 2014
NZ FRINGE
Arty Bees Bookshop, Wellington
Feb 19 - Mar 1, 2014